Homalocephale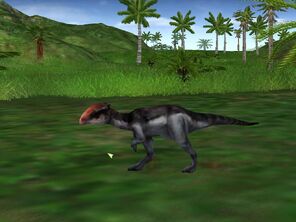 Information
| | |
| --- | --- |
| Length | 4 metres |
| Friends | |
| Time Period | Late Cretaceous 87-78 |
| Dig Site | Flaming Cliffs |
| Security Requirements | Low |
| Rating | 3 |

Homalocephale are small herbivores which lived during the Late Cretaceous. They don't have the ability to defend themselves, even though their skulls are fairly thick. They will always flee from carnivores.
Homalocephale do not defend themselves, and always hide behind their larger cousins for protection.
It is a 3-star small herbivore and for some reason they are more popular then their larger relatives, the Pachys.
If let out of Its cage, it will not scare visitors.
They have an unused sound file called 'HomaRes01" in their sound folder.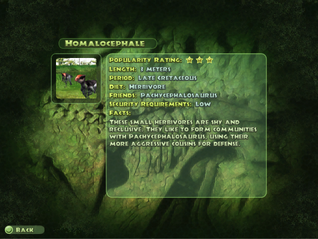 Ad blocker interference detected!
Wikia is a free-to-use site that makes money from advertising. We have a modified experience for viewers using ad blockers

Wikia is not accessible if you've made further modifications. Remove the custom ad blocker rule(s) and the page will load as expected.