Welcome to the Jurassic Park: Operation Genesis Wiki! JP:OG is a dinosaur park management game available for PlayStation 2! Feel free to add high quality knowledge and pictures to our Wiki.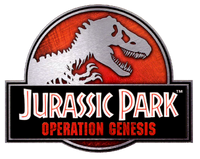 Alioramus
Apatosaurus
Baryonyx
Giraffatitan
Deinonychus
Diplodocus
Fabrosaurus
Hadrosaurus
Iguanodon
Jaxartosaurus
Lambeosaurus
Maiasaurus
Nodosaurus
Ornithomimus
Panoplosaurus
Quetzalcoatlus
Riojasaurus
Tenontosaurus
Thescelosaurus
Therizinosaurus
Utahraptor
Ultrasaurus
Wuerhosaurus
Xenotarsosaurus
Yangchuanosaurus
Zuniceratops

716 pages (including redirects, etc.)

Slideshow
Ad blocker interference detected!
Wikia is a free-to-use site that makes money from advertising. We have a modified experience for viewers using ad blockers

Wikia is not accessible if you've made further modifications. Remove the custom ad blocker rule(s) and the page will load as expected.