Novel Canon Mod
Talk

2
58pages on
this wiki
The Novel Canon Mod, or NCM, is a User Created Expansion Pack started by Jurassic Park Legacy user DinoDude65. Jurassic Mods user raptors rules took place as second in command. Version 1 was first released to Jurassic Mods on Decmeber 1, 2009. A patch known as the Novel Canon Mod Version 1.5 was released to JPLegacy a few weeks later, which corrected several glitches and added some new content.
Primary Features
Edit
The goal of the NCM was to make Jurassic Park: Operation Genesis more like the Novels by Michael Crichton. Most of the pack containd skins for most of the Dinosaurs. Some dinosaurs however like Ankylosaurus were renamed since Ankylosaurus was not featured in the novels but it has a cousin called Euoplocephalus which is an example in the pack and Euoplocephalus was in the pack. A full list of features can be found here at JPLegacy.
A Beta version of the NCM was released to Jurassic Mods and JPLegacy on October 10, 2009. It included a few mods and some early skins. The Novel Canon Mod Version 1 was released to Jurassic Mods, JPLegacy, Modding Genesis, and Modders Central on December 1, 2009, about two months after the beta. A patch called the 1.5 release was released a few weeks later. It correctd several issues and glithces, and updated many skins from the Version 1 release.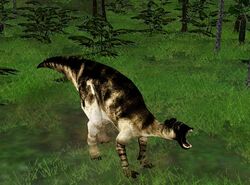 Reception
Edit
The NCM was well recieved at all released sites. The NCM was moved onto JPLegacy's homepage along side the Film Canon Mod, being a large release. Most reviews were Mixed to Positive, being mostly positive.
Version 2.0
Edit
A Version 2 has been in the works since December 2009, and plans are that the skins will be even more accurate than before. A Release date has not been confirmed.
External Links
Edit