Parasaurolophus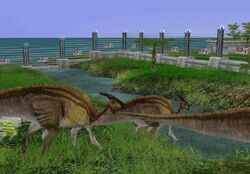 Information
| | |
| --- | --- |
| Height | 4.9 meters |
| Weight | 1/2 ton |
| Length | 10 meters |
| Diet | Herbivore |
| Friends | |
| Time Period | Late Cretaceous 76-65 |
| Dig Site | Hell Creek Group A |
| Security Requirements | Low |
| Rating | 3 stars |
Parasaurolophus is a large, 3 star herbivore. Parasaurolophus is a gentle herbivore and lived during the Late Cretaceous period.
The Parasaurolophus in JPOG are unlocked in one game setting, and are coloured like the ones from The Lost World: Jurassic Park. They are herding dinosaurs so at least 10-40 members would make it happy and it feeds on paleo trees. Parasaurolophus are commonly hunted by Tyrannosaurus and Acrocanthosaurus. Their friends are Edmontosaurus.
In the missions they are out of their pens and the player must herd them back into their paddock.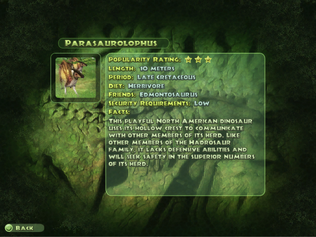 Ad blocker interference detected!
Wikia is a free-to-use site that makes money from advertising. We have a modified experience for viewers using ad blockers

Wikia is not accessible if you've made further modifications. Remove the custom ad blocker rule(s) and the page will load as expected.