Torosaurus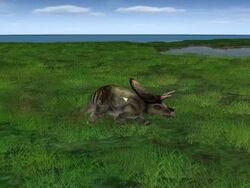 Information
| | |
| --- | --- |
| Weight | 5 tons |
| Length | 8 meters |
| Diet | Herbivore |
| Friends | |
| Time Period | Late Cretaceous dg |
| Dig Site | Hell Creek Group A |
| Security Requirements | Low |
| Rating | 2 stars |
Torosaurus is a two-star dinosaur in the game.
Torosaurs can defend themselves and like to be in small herds (around 5 individuals) along with other members of the ceratopsid family (Styracosaurus, and Triceratops). Torosaurus can also have disputes and harmlessly brawl with another member of the herd. They also like flat areas with low vegetation.
Like Triceratops, Torosaurus can kill a Velociraptor with just one hit.
Length: 8 meters
Friends: Triceratops
Time Period: Late Cretaceous
Dig site: Hell Creek Formation A
Security Requirements: Low
-Despite having horns, they can only defend themselves against small carnivores.
-Torosaurs (and Styracosaurs) might sometimes just stand completely still when a large carnivore runs past them, even though they are in panic mode.
-They are the only horned dinosaur that fights one another.
-They are liked by both Triceratops and Styracosaurus, but their favorite dinosaur is Triceratops (due to them both being from Hell Creek sites).
-Torosaurus can attack Land Cruisers, but this occurs very rarely.